​Schreck Family on Taff , proseiben channel in Germany
still a few left contact me @ zombievirusart@gmail.com
Yes No Goodbye - Documentary now on Amazon Prime!
interactive ouija board i made for halloween
Ouija Table I made for my friend Charlie Classic
Custom Designed Braille Board
Awesome day hanging out with Elizabeth Saint and Nick Groff
the blue ghost
dustin pari from Ghost hunters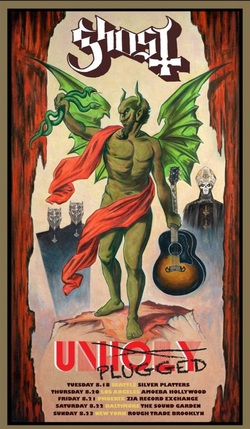 I got to meet ghost after seeing them in an Unplugged performance at Rough Trade in Brooklyn!! Such an awesome event an I feel very privileged to have been able to attend one of only 5 shows. I made "Ghoul-Ja" Talking Boards for the band and they were very grateful and just all around cool dudes. The original prototype board will Never leave my collection and I was lucky enough to have them sign it!! Awesome!
---
The Ghoul-Ja Board and the few who possess one
Alla Xul Elu board - ooak custom order
sTEVE gRAND "bROMO" bOARD ooak custom order
Antique "Gleason" Embalming Table that i made into planchettes
antique church pew board
Dude blames Ouijacon for the baltimore riots