The Devil's Decoupage
Hello psychos! Ol' Uncle RickOrmortis here with some nasty treats for you! Check out my new batch of repurposed Thrift Store finds! Nothing makes me happier than to Zombie Infect every little cutesy thing I can get my hands on.
I have become the decoupage devil and covered everything in torn paper and feathers creating a new type of Beautifully Ugly art for you to consume.

Enjoy :)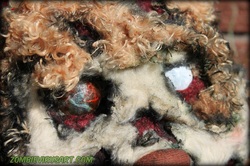 Ever hear of Teddy Ruxpin ? How about TJ Bearytales? They were little robotic bears that were made to keep kids company and also help them go to sleep at night. What would happen if they got infected with a Zombie Virus?
Here's your chance to find out. I have painstakingly stripped down to the bare or BEAR skeleton a TJ Bearytales and remade him into a bear of the Undead!
Entirely hand stitched with fur from other bears , decoupaged eyes , backpack and flashlight..he is ready to find a new home.He has a cartridge in him that sings " I'm not afriad of the dark anymore" I am really going to miss this lil' guy he is the FIRST one I ever made.

go here to see a video of him in action!
http://youtu.be/hr7FQ2OU3w0

Keep an eye out for more Zombie Bears I am almost done with the next two. I will be also offering custom orders as well.
Thanks for looking!
SOLD!


---
project " infected bush meat "aka ebola monkey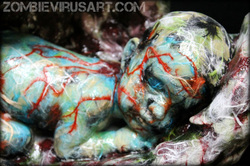 This little guy is just so damn cute!
Little Zombie Angel takes a rest after a hard day of feeding on the living. So realistic, so gross, So BEAUTIFUL.

He measures about 15 inches in length, 8 inches high and about 8 inches wide.
being made of a hard plastic he is pretty lightweight but solid.

All of my Zombie Infected Statues are done with many different types of paper and sometimes I use feathers as well which this guy has alot.

All of my Devil's Decoupage creations come with a FREE Genuine Cremation Tag!

Please give him a good home he's one of my favorites.

AVAILABLE NOW ON ETSY!

https://www.etsy.com/listing/200531719/zombie-sleeping-angel?ref=shop_home_active_4

---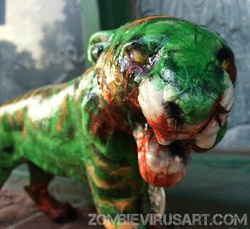 I know I say this a lot but this is one of my absolute favorites!

Here we have Cringer who is He Man's sidekick in the Masters of the Universe cartoon. In the cartoon Cringer turns into Battle Cat whenever He Man wields his sword. But...this Cringer here has turned into something far more sinister and dangerous, The Living Dead.

This piece started out as a white ceramic statue that I colored 100% with ripped paper , no paint was used in creation of this piece. Cringer is aprox. 16 inches long and 7 inches high. There are felt circles on the bottoms of his feet to prevent scratching of furniture.

All of my Devil's Decoupage creations come with a FREE Genuine Cremation Tag!

Please give him a good home I love this guy!
AVAILABLE NOW ON ETSY!

https://www.etsy.com/listing/200643175/zombie-cringer-he-mans-battle-cat?ref=listing-shop-header-0

---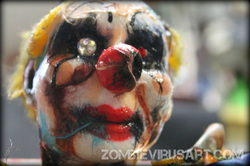 Not for those afraid of Clowns.lol

This dude is a non functional Jack in the Box that didn't have an easy go after being infected. He grips the edge of his box forever captive ,waiting for someone to get close enough for him to feed upon.
Another one of my favorites, I hate to see him go but he needs to see the world and spread his infection :)
Made from a decorative Jack in the Box he stands aprox. 11 inches high, 7 inches wide

All of my Devil's Decoupage creations come with a FREE Genuine Cremation Tag!

Give him a good home.
AVAILABLE NOW ON ETSY!

https://www.etsy.com/listing/200527068/zombie-jack-in-the-box?ref=listing-shop-header-2

---
This one is definitely a conversation starter! We have here a Slender Man Statue , covered in white paper and various blood red colored paper. No red paint was used for this piece.
He stands 15 inches high and has felt on the bottom of the base to prevent scratching of your furniture.

The simplicity of this piece ads to the creepiness of it.

Please give him a good home.

All of my Devil's Decoupage items come with a FREE Genuine Cremation Tag!
AVAILABLE NOW ON ETSY!

https://www.etsy.com/listing/200631144/the-slender-man-creepy-statue?ref=listing-shop-header-1

---
Zombie Snow White ...a peek at how I do it
ZomBear - Wolfgang
MONSTER MANIA 28 CHERRY HILL NJ