Meet " The Livindeds" .....................
The day to day adventures of a family of the undead,
based on real life characters in my family and my friends.


Dad (Me)- RickOrmortis MOM (Kate)- Katanas
Sisters ( Winter & Samara) - Winterrible & Samaniac
Brother (Kyle) - KylEvil
---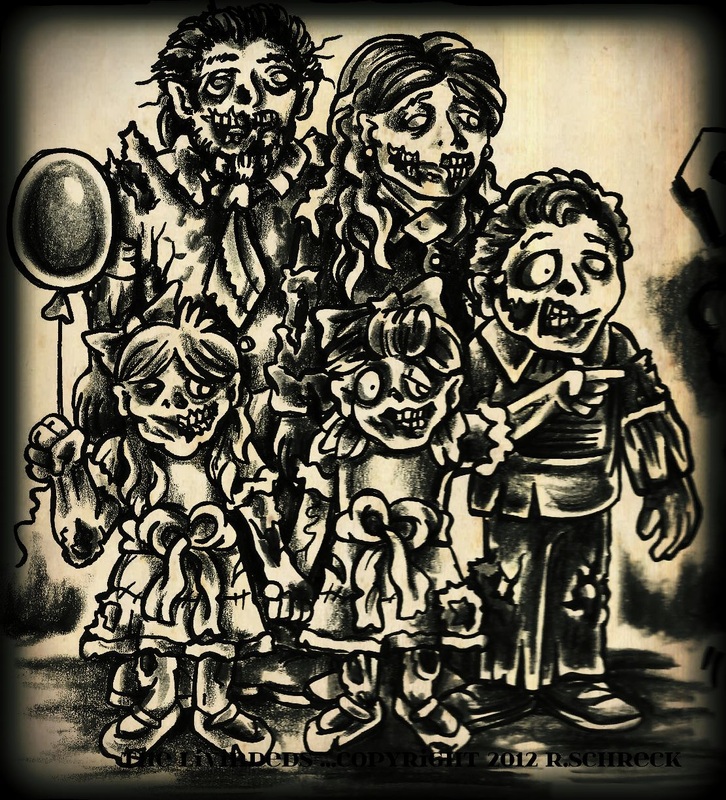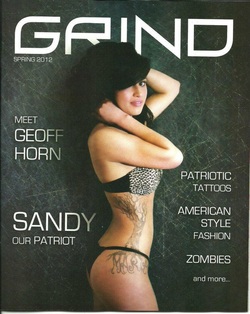 Grind Magazine - Spring 2012 issue


Premier of THE LIVINDEDS!
The Livindeds #1 - GRACE


Samaniac and her sister Winterrible are munching
on their dinner when Mom (Katanas) scolds them for not saying
grace before eating. after all , it is a priest they are
chowing down on.


---
The Livindeds #1 - Grace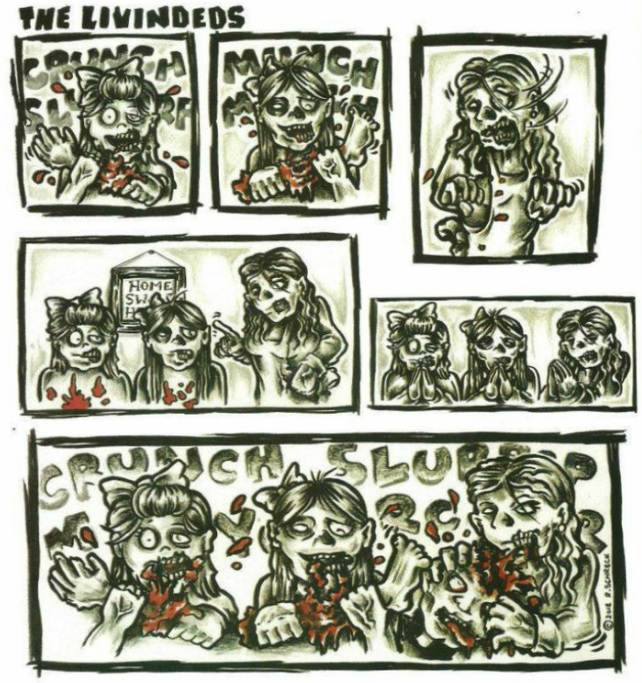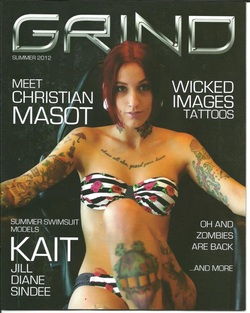 Grind Magazine - Summer 2012 Issue

The Livindeds #2 - Picnic at Evans City

This episode of The Livindeds takes place in Evans City Pa
The site where The Night Of The Living Dead was filmed. I was inspired for this one because I was fortunate enough to help
out in the Fix The Chapel fundraiser to restore Evans City Chapel. The two lovers having a picnic was modeled after my friends Shawn & Jackie who were getting married around that time. I was the minister at their wedding!
The chapel in the background was the actual pic of the chapel that i tattooed on people to raise money for the cause.
---
The livindeds #2 - picnic at evans city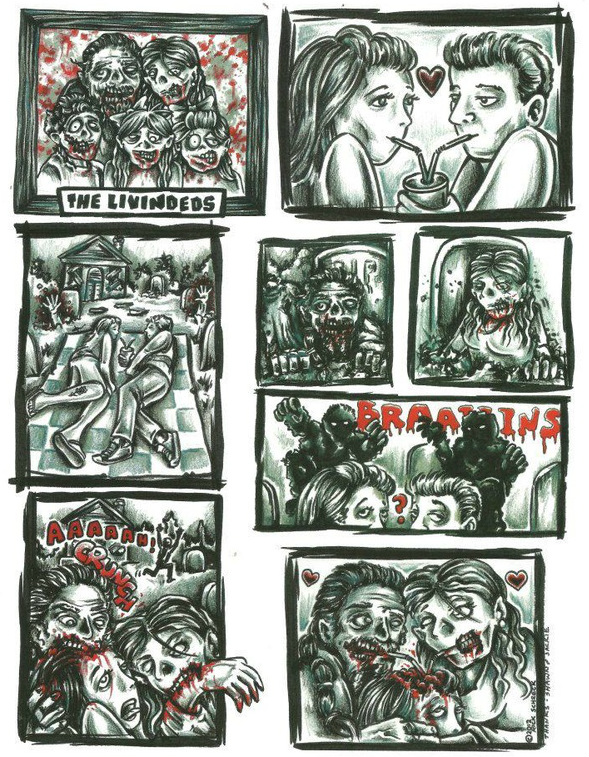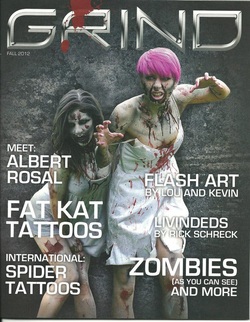 Grind Magazine - Fall 2012 Issue


The Livindeds #3 - Circus Day


Here in The Circus Day Episode I wanted to do something in
Color so I figured OK Zombie Clowns! We have The Livindeds on their way to the circus, watching the funny clown car and as they enter they see that it's feeding time! I've been asked if the elephant is a zombie or if he's just ripped up.. I'm not sure
What do you think?




---
the livindeds #3 - circus day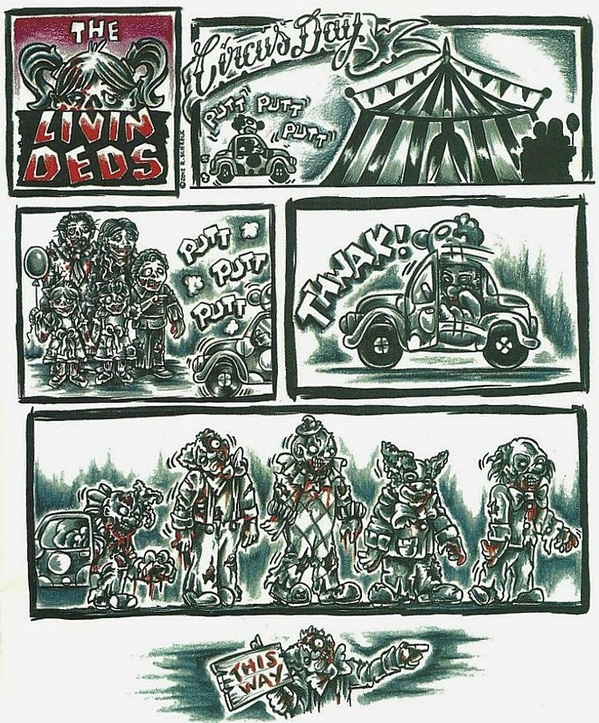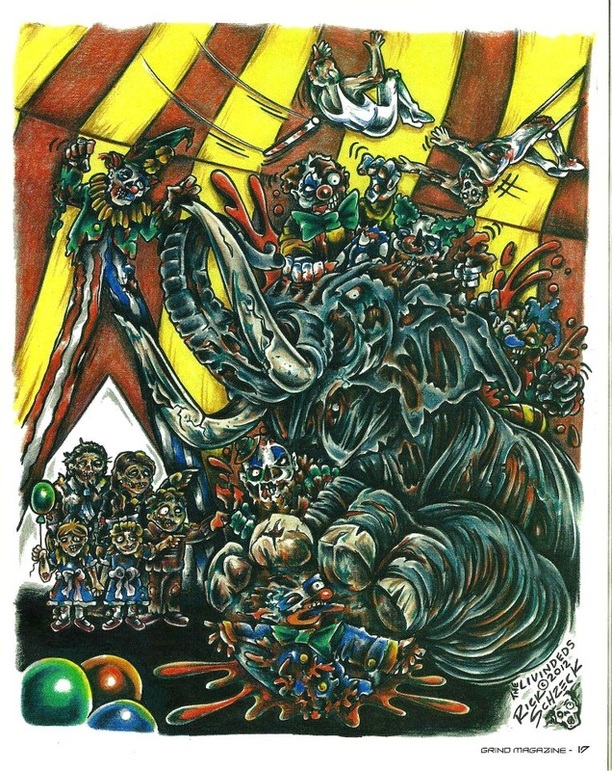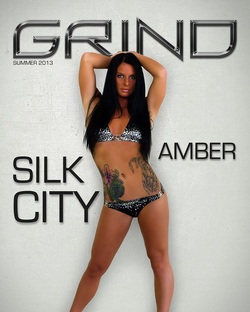 Grind Magazine - Spring 2013 issue


The Livindeds #4 - Live and Let Live


lol What can I say? The WBC was in the news alot at the time and was getting alot of people upset. So, I decided to get a little political in this one. I based it off of the saying from Dawn of The Dead " When there is no more room in Hell, the dead will walk the earth" .The publisher of the magazine was cool with it but asked me not to curse in any more issues. lol I forgot that I put " Fuck You WBC" in the bottom corner by my signature.
---
the livindeds # 4 - live and let live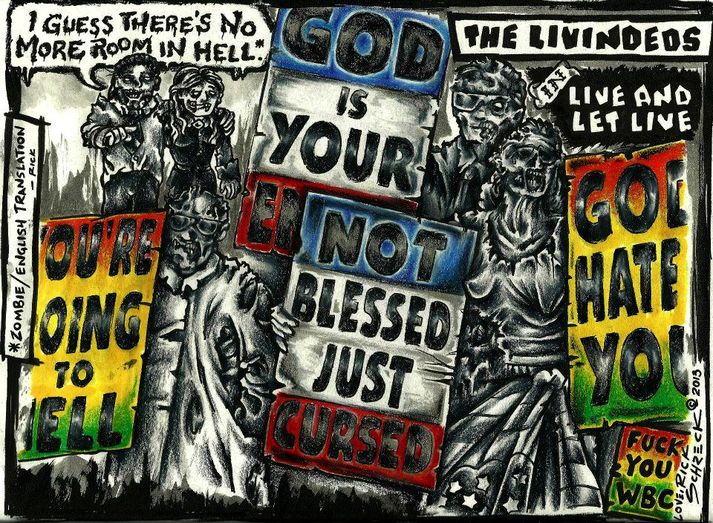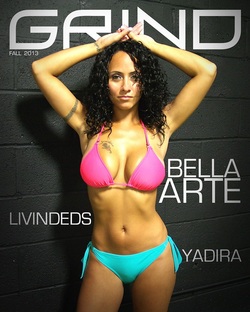 Grind Magazine - Fall 2013 Issue


The Livindeds #5 - Pu Pu Platter


It's Chinese Food night for the Family as a local
delivery guy from Chan's Chow knocks on the wrong
door! Well it's a good thing he brought enough chopsticks for the everyone.
The front of the house is modeled after the cabin in The Evil Dead.
---
the livindeds #5 - pu pu platter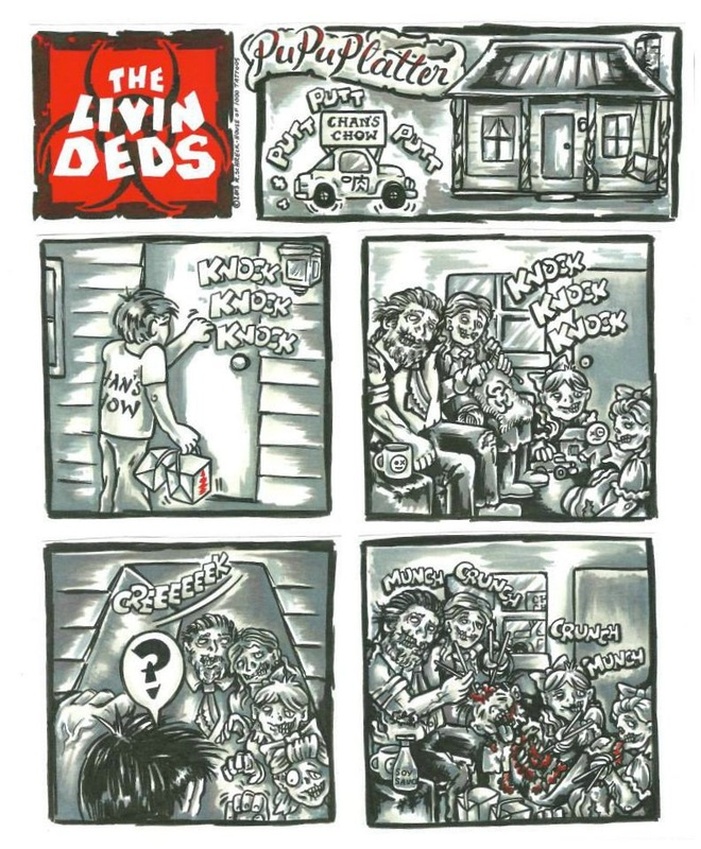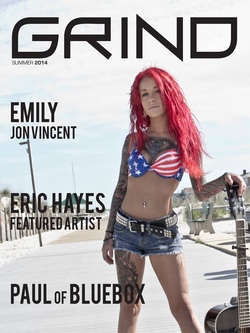 Grind Magazine - Summer 2014 Issue


The Livindeds #6 - One Fine Day out Cheating


In this one I wanted to pay tribute to the Greatest Cartoonist that ever lived DON MARTIN. He has always been a great inspiration to me !


RIP Don MARTIN...,Mad's Maddest Artist
---
The livindeds #6 - one fine day out cheating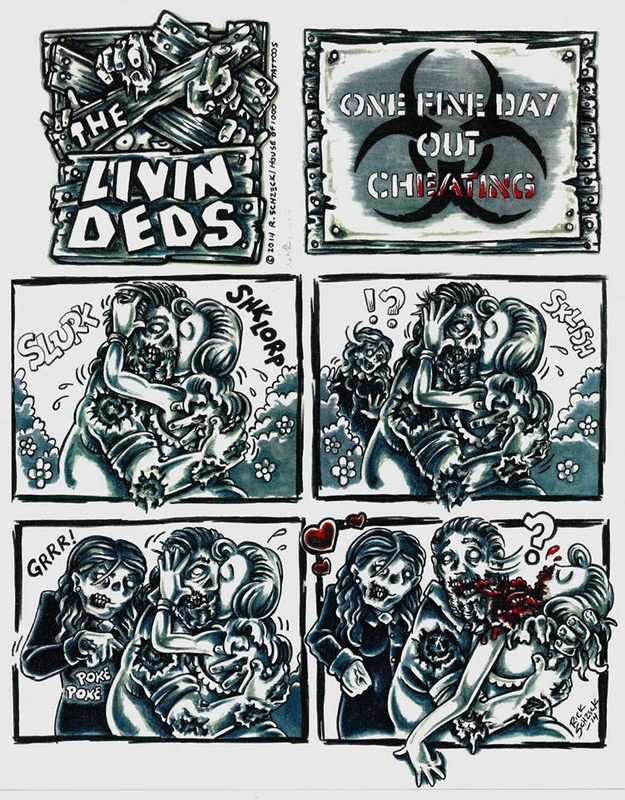 the livindeds,The Livindeds logo
and The Livindeds characters
copyright 2012- Rick Schreck/
House of 1000 Tattoos
---